Returns and refunds on standard items
If an order is cancelled prior to dispatch, we will charge a 10% administration fee.
If you'd like to return your purchased item, you are most welcome to within 7 working days, but note that delivery and collection charges will be for your account. Delivery is charged based on the weight of the order and may vary depending on city and outlying areas.
Delivery fees average between R100 - R500 depending on your area and size of the order. Delivery fees can exceed R500 on very large orders or if you are situated in outlying areas on South Africa.
Delivery charges online are based on a retail sale (i.e. not trade-facing). Airloom reserves the right to re-quote the delivery.
Delivery lead times:
Estimated lead times are approximately 12 working days, but times vary depending on the selected item. Please contact us on enquiries@airloom.co.za for information on specific queries.
Please see below for Signature Collection terms and conditions.
These charges are not applicable to flooring freight.
Please note that items arriving after the 7 working day return deadline will not be accepted and will be returned to sender. If goods aren't returned in the same condition they were sent out in, we reserve the right to withhold refund. Return requests will be approved at the discretion of Airloom. Products must be returned in their original packaging and will not be eligible for return if they have been damaged. To complete your return, we require a receipt or proof of purchase.
Refunds are offered in the original method of payment. Refunds take up to 5 working days to process. EFT and credit card refunds will take 2-3 working days to reflect in your account due to the bank.
If a product is out of stock or cannot be supplied for some reason, Airloom reserves the right to cancel the order and refund the payment.
Only regular priced items may be refunded, unfortunately sale items cannot be refunded.
Gift Cards/vouchers are not refundable.
Important notes on custom made/custom size items
As these are made to order, we cannot accept returns/exchanges on these items. As these products are hand-finished, please allow for a marginal size variation.
Natural Fibre Rugs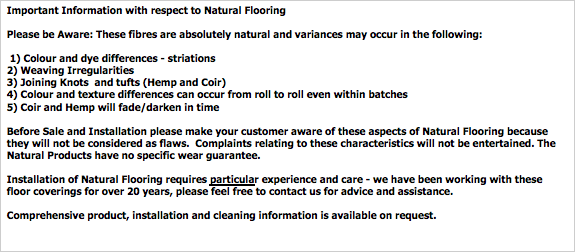 Terms and Conditions for The Signature Collection (from hereon referred to as 'Voke'):
All prices include Value Added Tax ('VAT').

As exchange rates fluctuate continuously, Voke Rugs reserves the right to change prices from time to time without prior notification.

Official order numbers / names must be quoted on all orders.

All back orders are subject to the price ruling at the time of delivery.

Delivery dates for goods are approximate and Voke Rugs cannot be held responsible for any delays.

Items cannot be returned after thirty (30) days from the date of invoice, unless the product becomes defective within six (6) months from the date of invoice, having regard for its general intended purpose and normal use.

No credits (price differences etc.) will be passed after thirty (30) days from the date of the original invoice.

No quality complaints can be accepted six (6) months after the date of invoice.

No returns will be accepted without a valid reason given in writing and approval from the sales manager or other employee authorised by Voke Rugs.

No returns will be accepted without a copy of the original invoice.

Rugs with a width variation of +/- 3% cannot be returned for credit.

Credits can only be passed once the central distribution centre has received the item and the required documentation, and an inspection is completed to ensure the item is in its original condition.

A handling fee will be charged on all returned items, unless otherwise agreed. The handling fee for rugs is R500.00 per rug.

Dye-lot variations occur in all rugs and are unavoidable. The customer must examine the product against its general intended purpose and normal use before accepting delivery thereof.

No returned goods will be accepted unless a Voke Rugs sales consultant or manager views the complaint and approves the return.

Voke Rugs cannot be held responsible for any loss or damage suffered by a customer as a result of a product having been incorrectly cleaned or handled.

No claims will be accepted if rugs have been chemically treated after purchase.

Voke Rugs will not accept any responsibility for rugs fading as a result of exposure to harsh sunlight. Fading as a result of exposure to sunlight will be accepted as fair wear and tear in line with the normal end use for which the rug is generally intended.

We reserve the right to refuse any return in line with the abovementioned terms.

Voke Rugs will not be held responsible for any consequential loss as a result of a defective or hazardous product.

The Voke Rugs return policy does not apply to items bought during a SALE.
For goods to be credited, a customer needs to supply us with the following documentation:
 A copy of invoice.
Proof of return (signed copy of delivery note).

Written reason for return, signed off by a Voke Rugs representative.

Name of the Voke Rugs contact person who approved the credit.

The refund will be made in the same tender as the original payment.

Credit card holder must be present for exchange/returns.

For goods to be credited, the item has to be returned:
In its original packaging.

With the price ticket attached (retail).
These terms and conditions do not affect our statutory legal rights.